Higher Education in Russia and Beyond (HERB) is a quarterly informational journal published by National Research University Higher School of Economics since 2014. HERB is intended to highlight the transformation process of higher education institutions in Russia and the counties of Eastern Europe and Central Asia. The journal seeks to present multiple-aspect opinions about current challenges and trends of regional higher education and give examples of the best local practices. We envisage our audience as a wider international community of scholars and professionals in the field of higher education all over the world. The project is implemented as part of cooperation agreement between Higher School of Economics and Boston College Center of International Higher Education.
Current Issue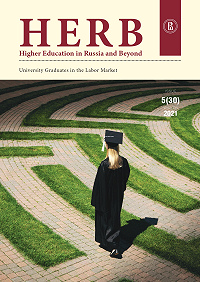 Full text of the journal
Contents
Educational Characteristics of Graduates and Labor Market Outcomes

Individual Characteristics of Graduates and Labor Market Outcomes

Educational System, Employer's Perceptions and Labor Market Outcomes

How to Study Labor Market of University Graduates?